Media, Articles & Photo Gallery
Skilled Criminal Defense Attorneys in Miami
Jeffrey S. Weiner, Miami criminal defense attorney, has been featured on television numerous times. Some of his appearances include CNN, and other local news channels.
Jeffrey S. Weiner was feautured as the front page story on The Florida Villager, In Your Corner which is an edition from October 2019. Click here to see the full article.
July 9, 2017 Interview on "This Week in South Florida" regarding Miami-Dade judge shooting down revised version of Stand Your Ground Law.
Jeff Weiner's Interview on July 15, 2013 with nationally syndicated radio host, Ian Masters, who is an Australian-born, BBC-trained, American broadcast journalist, commentator, author, screenwriter, and documentary filmmaker.
NACDL's October 23, 2012 Program at the National Press Club — Entrusting the Fourth Amendment to the Dogs: Canine Evidence and the Constitution (Watch the Video) (Introductory Remarks, NACDL President Steven D. Benjamin; Ilya Shapiro, Senior Fellow in Constitutional Studies, Cato Institute; Marc Rotenberg, Executive Director, Electronic Privacy Information Center (EPIC); Professor of Information Privacy Law, Georgetown University Law Center; Danielle Spinelli, Partner and Supreme Court Litigator, WilmerHale; former clerk to The Hon. Stephen Breyer, U.S. Supreme Court, 2000-01; Jeffrey S. Weiner, Criminal Defense Lawyer and Dog Sniff Expert, Miami, Florida; Past President of NACDL (1991-92); David G. Savage (moderator), Supreme Court Reporter for the Los Angeles Times and Chicago Tribune.)
Media Interviews
Diego Weiner on NBC Miami with Dan Grossman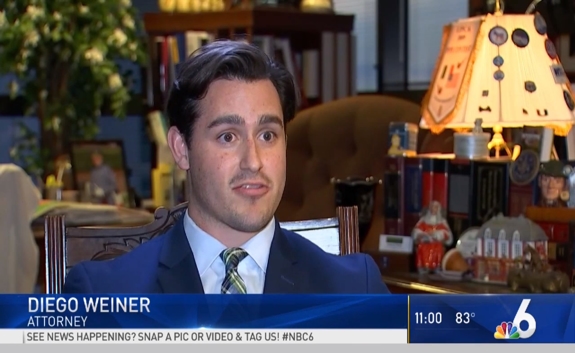 Jeffrey Weiner on CNN with Anderson Cooper
Jeffrey Weiner on Court TV 8/10/1992
Jeffrey Weiner in "The Use of Lethal Force"
Weiner & Ratzan, in Miami, Florida, handles criminal defense for people charged in state, federal and international cases.